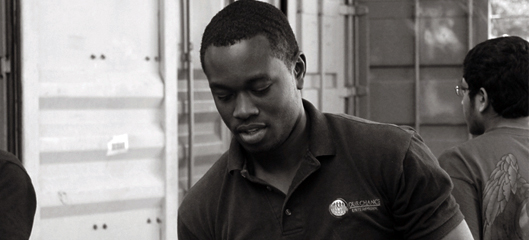 Travis L. Sands Biography
Model, Youth Activist, Entrepreneur, and CEO, Travis L. Sands was born on May 11, 1985. The eldest of 3, Sands was raised by his Bahamian mother in a single parent home in Miami, Florida.
Sands knew at an early age that he wanted to grow up to help others and become a part of something that would empower and uplift his community. In 2001 as a high school sophomore, he became a part of Weed and Seed, further shaping his ideas on working with others. "I knew that I wanted to have a program to help people like me. I didn't want anyone to go through what I had been though. I had to find out a lot of things for myself. There was no one there to show me." In his senior year in 2003, Sands was hand-picked to be the Orange Bowl mascot Obie, by his high school's Athletic Director.
Upon high school graduation, Travis Sands attended Miami-Dade College to study Physical Education. His college career was cut short when his mother took ill. It then became his primary focus to work as much and as hard as he could to take care of his family. In 2004, Sands enrolled at William H. Turner Technical School. He completed his program and became certified in Air Condition Refrigeration. He went on to become the youngest A.C. Mechanic in the Miami-Dade County School Board, still to this day. Sands never lost the desire to work with youth in his community. While working a full time job, he also served as a coach in an afterschool program called Easter Seal.
Always interested in expanding his paradigm, Travis Sands joined Opulent Image Models. In joining O.I.M., Sands was able to again reach further than his very humble beginnings had allowed him to think possible. While modeling, Travis was also working as a Volunteer Ambassador for the Orange Bowl and went on to become the Festival Chair for two years on the Executive Committee, and is now currently serving as the Chair of the Orange Bowl Ambassador Program.
Though working in several different areas, Travis Sands had the dream of doing more. He wanted to do something that could get a message out to his community. This led to a talk show on Youtube.com called "Real Talk". "Real Talk" would give birth to Our Chance Enterprise, a community based organization founded by Sands on February 24, 2010, that would go on to service hundreds of youth throughout the Greater Miami area. Our Chance Enterprise's mission is to aid youth in achieving their personal goals be it attending college or preparing to enter into the workforce.
Through his selfless acts and since the birth of Our Chance Enterprise, Sand's organization has been highlighted in The Miami Times, being spotlighted as a Black Celebrity Giving Change-Maker, as well as being nominated for an African American Achievers Awards presented by JM Lexus for two consecutive years.
In the future, Travis L. Sands hopes to expand Our Chance Enterprise's reach and take the organization into other cities. His aim is to continue insuring that each young person that is in need receives the assistance necessary to make his or her dream a success.